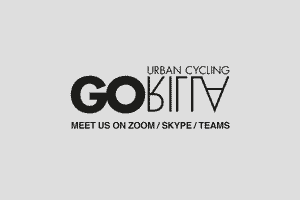 YOUR INDIVIDUALIZED SET UP MEETING - ONLINE
Sale price excl. VAT Price excl. VAT CHF 0.00 Regular price excl. VAT
ALL YOU NEED . WE DO . YOU GO .
Schedule your appointement for your individualized GOrilla Set Up! We will reply to you with some more information about our products. So you can prepare yourself for the live-session via team - skype or zoom where you and the GOrilla choose the right components for your GOrilla."

Frame-set



A lot of people ask me " what`s special about the GOrilla frame-sets ? "
Well, we believe in steel, quality, traditional craftsmanship. We keep the production of most of our components close to our homebase Zürich.

That`s why we use high quality steel tubings from Columbus and Dedacciai  and all our framesets are made by experienced framebuilders in Italy or Switzerland.

Tig-welded, fillet brazed or lugged.

Depending on your style of riding, you can choose between different frame-sets and geometries like: Urban Track, 70ies Road Bike or the famous SwissArmyBike from the 50ies.

And if you want that little bit more extra special … we can do Titanium frames as well!


Finishing



When it comes to the finishing of your GOrilla frame-set, you might have a little bit of a hard time to choose from the many options that we offer … 
Your bike painted in a regular color ? Or a special color, mixed especially for you ? 1 color, 2 colors, 3 colors or more ? Matt ? Glossy ? With sparkles or without ? Or do you want your Gorilla metal-plated ? Copper or chrome ? Raw ? Brushed ? Or polished ? With a clear-coat ?  Or without, so the plating ages slowly and gives your frame-set a unique vintage look ? What about wrapping your frame and fork with a watertransfer foil ? Which pattern do you like ? ... It`s all possible.


Gearing



Since we started building bicycles for the urban rider we believe less gears are more efficient. Stunned by the beauty and simplicity of trackbikes and inspired by the bicyclemessengers riding them daily on the urban track, the first GOrillas where only singlespeed or fixedgear.

Nowadays you can have several gears if you like. To keep the look simple and maintenance low, we work with Sturmey Archer internal gear hubs and the Haberstock Speed Drive crankset on all of our urban track frame-sets. Up to 4 gears, you don`t even need cables and shifters. By choosing a coasterbrake, there will be only one lever and cable for your front brake. If you are more in love with riding a  classic road bike like our "Strada" frame-set, you tell us which groupset of what brand you like. For those who like a little support from a electric motor, but don`t want to ride a heavy e-bike, we offer a rear wheels with the Zehus all-in-one hybrid hub. Motor, battery and electronics are all integrated in the hub. Wireless controlled by an app on your phone or a small remote control on your handlebar.


Components



A good frame-set needs good components to be a good bicycle. That`s why we work only with brands that have a high quality level and a good reputation. Most of them are in the business for a long time and are experienced in manufacturing reliable bicycle components. Campangnolo, Sugino, Nitto, Tange, MKS, Izumi, Sturmey Archer, Haberstock, Gilles Berthoud, Paul, White Industries ... Just to name a few..

The full list you will find on our website, clicking on " Component Partners ".