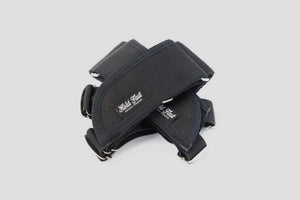 HOLD FAST - Pedal straps
Sale price excl. VAT Price excl. VAT CHF 70.20 Regular price excl. VAT
Born on the streets of New York City out of a desire for something stronger and more durable than the turn of the century toe-clip technology.

The Hold Fast original Foot Retention System was the first of its kind to hit the market in 2009.

Hold Fast designed these from the ground up to integrate all bicycle pedals with any guides. This is the difference between all these "cheap" produced straps. The really flexible straps ever! And .. quality is long life! 
Price is per each pair / Size Regular / Colour is black